On April 24, Huawei Cloud Summit 2019 Singapore was successfully held. More than 1,000 representatives of government departments and enterprises, experts, developers and students in the Asia-Pacific region attended the meeting. Cennavi, a professional location big data company under NavInfo, was invited to attend and deliver a keynote speech as an important partner.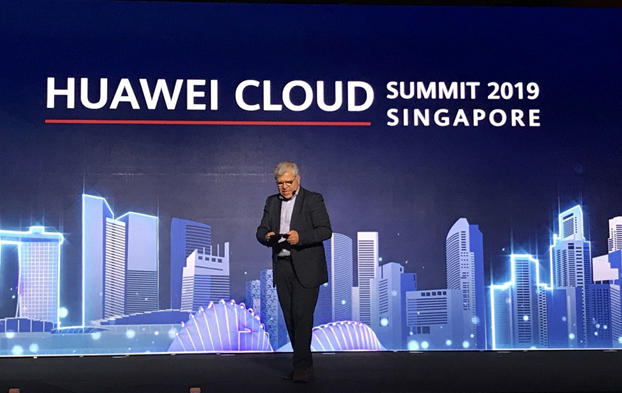 Figure 1: Summit Site
Themed by "+AI, Grow with Intelligence", Huawei Cloud Summit 2019 Singapore discussed enterprise digital transformation, and shared innovative products and practice from cloud computing, AI, big data and other aspects with representatives from the government, finance, Internet, logistics, retail and other industries, experts and technical directors. This summit represents the debut of Huawei Cloud Singapore with cloud and AI service in Singapore since Huawei Cloud Singapore Region was officially launched on February 20. Among them, TrafficGo attracted much attention from guests at the meeting as the real scenario of Huawei Cloud AI City Intelligent Twin implemented in the traffic field.
TrafficGo Uses AI to Take over Urban Traffic
In the context of the rapid development of such emerging technologies as AI and big data, in order to provide intelligent solutions for all walks of life, and help enterprises improve the production efficiency, refine operation and innovate business model for more intelligent industries, Huawei Cloud officially released its AI Intelligent Twin in 2018 to solve segmentation scenarios of issues in each industry through AI collaborative cloud, big data, edge computing and other technologies. At present, traffic intelligent twin, industrial intelligent twin, park intelligent twin and connected car intelligent twin have been launched in succession in traffic, industry, park, auto and other fields.
As a part of the development of Huawei Cloud AI Intelligent Twin, TrafficGo provides signal light optimization, traffic prediction, whole area road network analysis, traffic parameter perception, situation evaluation, traffic incident monitoring and control and other services. Related innovative applications have brought about three major changes in the traffic field: in-depth integration of industry wisdom and AI, from point control to line control and regional collaboration, and from police affairs to general inclusiveness. It's equipped with comprehensive and in-depth data mining, whole area collaboration and human-car cooperative computing, real-time signal light dispatching, accurate vehicle track prediction and other technical advantages. This product adheres to inclusive AI and creates safe, efficient and green urban transportation experience, which is committed to realizing the enterprise's beautiful vision of "AI taking over urban traffic". As a professional big data service provider under NavInfo, Cennavi provides this product with map platform visualization, route planning, POI search, customized road data, 1-minute real-time road condition interface and other services, and offers precise underlying support to TrafficGo.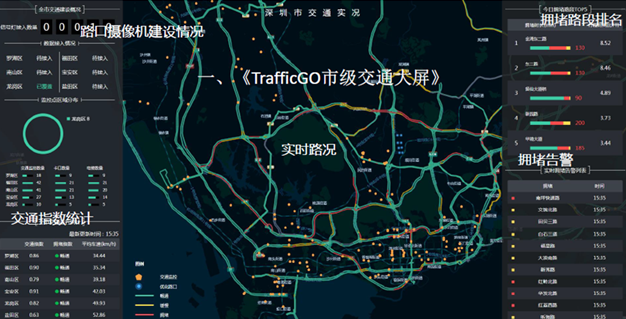 Figure 2: TrafficGo Interface Screenshot
Location Big Data Enable Traffic Intelligent Twin and Helps the Implementation of TrafficGo
During the meeting, Song Huixing, the person in charge of the Basic Platform Department of Cennavi, delivered a keynote speech titled "Location Big Data Enable Traffic Intelligent Twin" and shared and discussed successful practice results achieved by Cennavi based on Huawei Cloud concerning TrafficGo. As urban traffic congestion is a global issue, the relevant sharing has attracted much attention.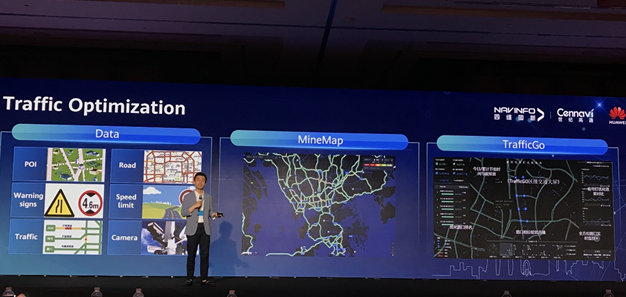 Illustration 3: Speech Scene of Song Huixing, the Person in Charge of the Basic Platform Department of Cennavi
He said that as a leading service provider of location big data in China, Cennavi accumulated massive map data, location information and industry experience. The relevant location big data services have been implemented in many fields. As an intelligent solution officially launched by Cennavi and Huawei Cloud in the traffic field, TrafficGo sticks to the concept of "intelligent + traffic". It has effectively integrated AI, big data, visualization and other technologies, and applied signal light optimization, traffic prediction, whole area road network analysis, traffic parameter perception, situation evaluation, traffic incident monitoring and control and other intelligent innovation services in the traffic field based on the actual business demands of departments of transportation to help the management departments improve refined traffic management and realize intelligent and digital traffic control. It supports the multi-signal control mode to realize multi-objective collaborative optimization. At the same time, it benefits all residents in the city to realize safe, efficient and green mobility. So far, TrafficGo has been applied in Beijing, Shenzhen, Tianjin and other cities.
At last, Song said that Cennavi kept very close partnership with Huawei Cloud. The TrafficGo project was stably advanced at home and abroad, which vigorously promoted the in-depth cooperation of both sides with regard to the relevant big data and intelligent construction in traffic field. Meanwhile, it was the formal start of their cooperation. In the future, both sides will fully integrate their own resource advantages and continue to carry out in-depth cooperation in big data, AI and other aspects, which will provide technical support for TrafficGo to enter the international market while assisting both sides in business expansion in the relevant traffic field of the international market.