The ITS World Congress 2019 was held in Singapore from October 21 to 25. NavInfo attended the event upon invitation with all the products and gave relevant on-the-spot lectures on the themes of big data, autonomous driving and intelligent connection. Cennavi, as the big data company of NavInfo Group, shared its achievements and progress in fields related to intelligent transportation and big data on the "Big Data" theme day. The innovative services and concepts attracted many overseas enterprises, including Toyota, DENSO, VICS Center, ST Engineering, and companies from Thailand and Malaysia, etc.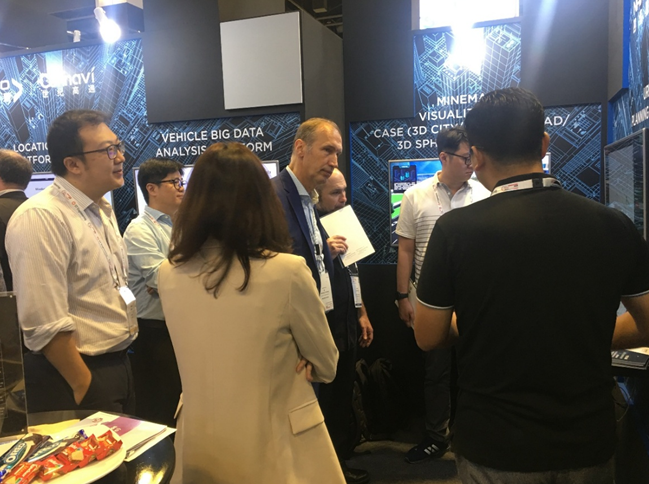 Figure 1 – Exhibition Site
Innovative Traffic Information Service Lighted up Special Hall for Intelligent Transportation
In the special hall for intelligent transportation, Cennavi mainly shared with guests on the site its expertise on traffic information service and relevant innovative mobility services such as high-precision real-time road condition, dynamic parking lot, lane-level road condition, traffic forecasting, voice broadcasting, road weather and networking safety, as well as the technological breakthroughs oriented to autonomous driving scenes.
It was said by the staff on site that Cennavi, as the first enterprise to realize commercialization of dynamic traffic information service in China, supported both global and Chinese traffic information technology standards, and took the lead in providing traffic information service such as TMC, TPEG and RTIC in China. Currently, high-quality traffic information service has covered 340+ cities in mainland as well as Hong Kong, Macao and Taiwan regions of China. The coverage rate of major commuting roads is 70%-90%, and the data can be updated rapidly in 30 seconds and expressed accurately at a magnitude of 100 meters, particularly with an accuracy rate of 90% for closed roads. Up to now, the traffic information service of Cennavi has been equipped in about 100 international mainstream vehicle models, with 5 million+ car users, 500 million+ internet users and 100+ government and enterprise users. The company has received many favorable comments for its new products and services provided to the car terminals based on the traveling scenes.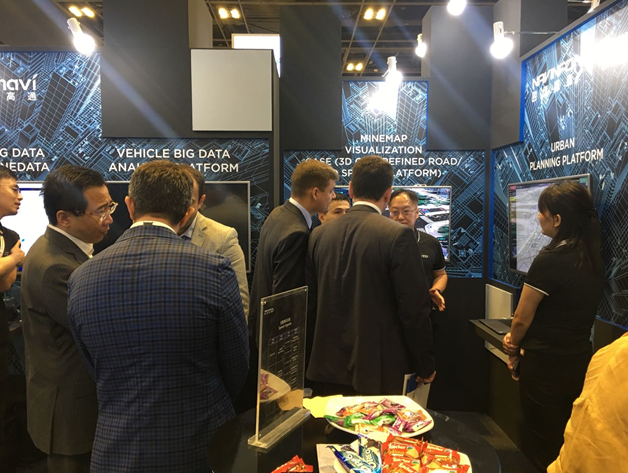 Figure 2 – Exhibition Site
MineData3.0 Showed Officially on Overseas Stage, and Attracted Much Attention from Special Hall for Big Data.
In the special hall for big data, Cennavi mainly shared with the guests on the site the newly upgraded MineData3.0 for which it had the proprietary intellectual property rights, and relevant industry solutions for transportation and planning sectors.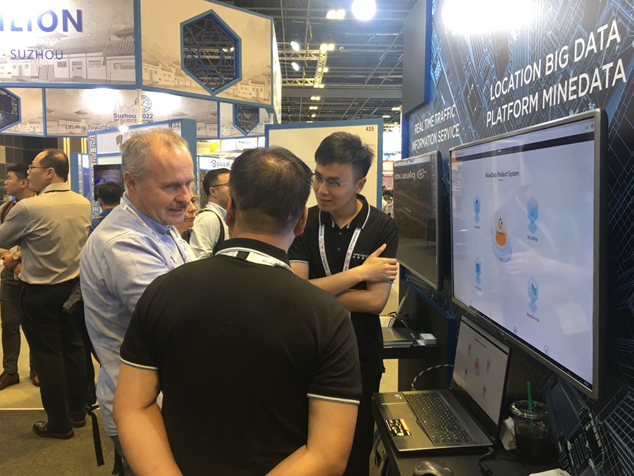 Figure 3 – Exhibition Site
It was said by the staff on site that MineData Location Big Data Platform was a new generation of location big data SaaS platform launched by Cennavi on basis of massive location data, industry experience and GIS technology advantages accumulated for many years, in combination with the advanced AI algorithm, which can be used to provide intelligent location services. Since its first release in 2017, it has realized the full process automation of data processing after three times of version upgrading. Hundreds of traffic algorithms are incorporated into the algorithm library, which can meet the highly-customized industrial needs in different scenes, including planar and three-dimensional scenes etc. Up to now, the total data volume has reached 5.13 PB, with a daily increase of 3.9TB. The data has been successively applied in many fields such as transportation, traffic police, public security, logistics, insurance, planning and poverty alleviation, serving many critical customers.
Cennavi Attended ITS World Congress Successively for Years, and Had Always Been at the Forefront of the Industry.
The staff on the site said that Cennavi, as a benchmark enterprise in the field of intelligent transportation in China, had always been at the forefront of the industry, and had attended the ITS World Congress successively for many years."Intelligent Transportation & Quality of Life" is not only the theme of this World Congress, but also the direction the company has been striving for. As a professional location big data service provider in China, Cennavi is committed to building a global location service ecosystem, with which it could provide all-round location services for partners, integrate the intelligence into daily life, and lay a solid foundation for itself to go abroad and explore overseas markets.
About ITS World Congress 2019
ITS 2019, with the theme of "Intelligent Transportation& Quality of Life", has joined hands with more than 500 global exhibitors to attract nearly 10,000 professional visitors from the world. The Congress of this year focuses on the latest solutions in the fields of traveling service, traffic management, satellite technology and location service, connected vehicle service technology, and traffic safety, etc. The ITS World Congress is an international conference organized by national ITS associations of various countries to exchange and discuss advanced concepts, management, technology and solutions of international ITS. It is known as the "Olympics" in the field of intelligent transportation, and is also the largest and most influential gathering of intelligent transportation industry in the world.