On December 20, the 2019 China Third Urban Traffic Management Forum of Yancheng, sponsored by ITS China, was officially opened at Yancheng International Convention Center in Jiangsu Province, in which Cennavi, the big data company of NavInfo Group, and senior experts from government departments, scientific research institutions and intelligent transportation community presented on invitation.
Cennavi, as a professional location-based big data service provider in China, intensively exhibited a series of products of the location-based big data platform MineData and many intelligent location-based service solutions for transportation, traffic police, planning and other fields, around the theme "Developing Public Transportation with Innovation and Enjoying Convenient and Fast Travel in City" of this forum, and gained much attention on the sitewith its relevant innovative services.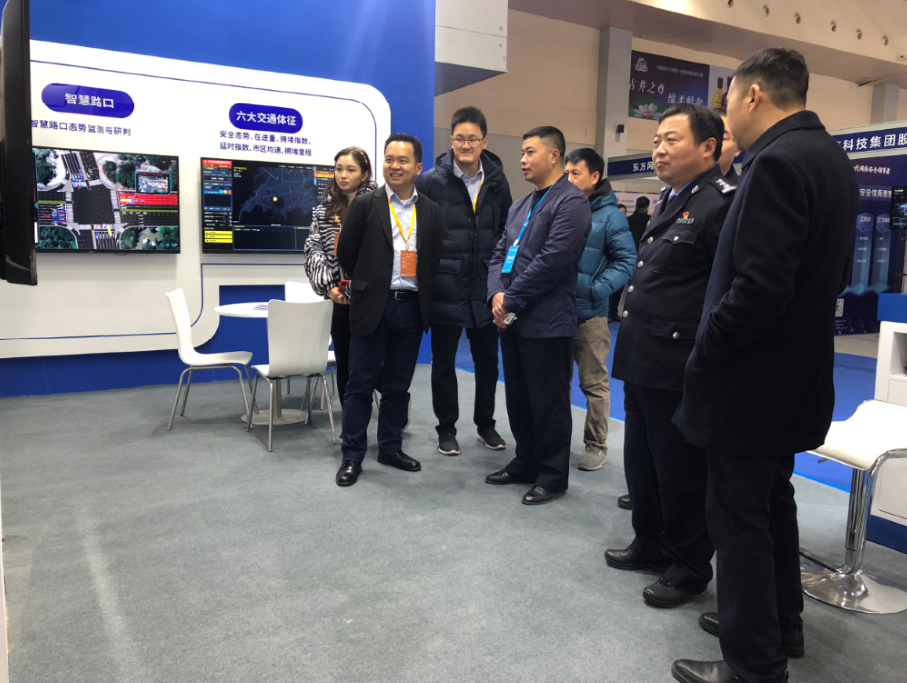 Figure 1 – Exhibition Site
Six Traffic Vital Signs – To Enable Scientific Decisionin Traffic Managementand DirectDecision-Making to Change from Empirical Judgment to Data-BasedAnalysis
The six traffic vital signs are proposed innovatively by Cennavi based on the Theory of Urban Traffic Life, including "in-transit traffic volume, safety situation, delay index, average urban driving speed, congestion mileage and urban congestion index". The service could reflect the traffic status in real time; solve the common problems, e.g. the auxiliary decision unduly depends on the personal experience of police officersand the qualitative analysis is predominantly used to analyze traffic operation status, issues and governance effect, withlack of quantitative analysis, etc.; and change the decision-makingmode from empirical judgment to data analysis, thus providing support for scientific decision-making of traffic management.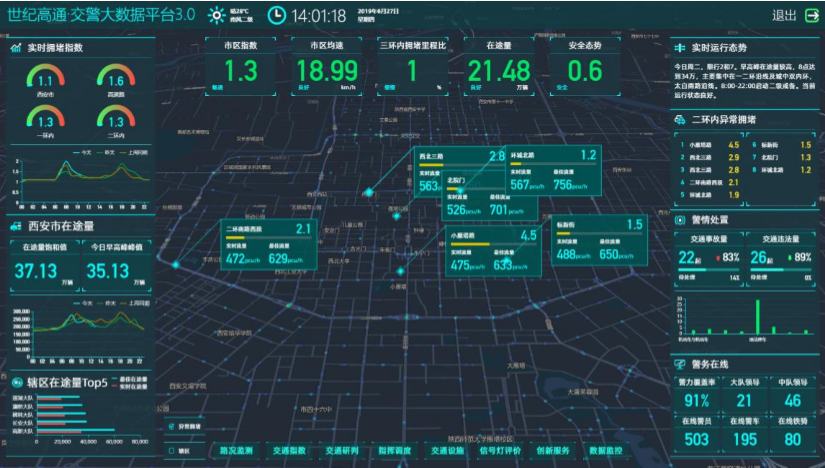 Figure 2 – Six Major Traffic Vital Signs
Traffic Police Big Data Platform – To Empower Traffic Police's Core Business and Create Five-in-One Service Mechanism of "Information Gathering, Commanding, Serving, Supervising and Publicizing"
Cennavi has launched the Traffic Police Big Data Platform for the core business in the traffic police field, based on its three industry advantages,i.e.the GIS big data whole-link service capability, the big data in-depth fusion and application capability and the traffic big data algorithm that supports business innovation and implementation. The platform takes holographic perception of traffic information and accurate investigation and judgment of urban traffic as the starting point for actual operations, enables traffic police to carry out core business such as traffic order control, command and dispatch, provides relevant solutions and products in many aspects such as urban road safety prevention, congestion control, signal lamp evaluation, helps traffic police to achieve the goals of information fusion, command integration, refined service management and whole-process supervision, and creates a new Five-in-One police service mechanism of "Information Gathering,Commanding, Serving, Supervising and Publicizing". So far, Cennavi has established cooperation relationship with multiple local traffic police departments.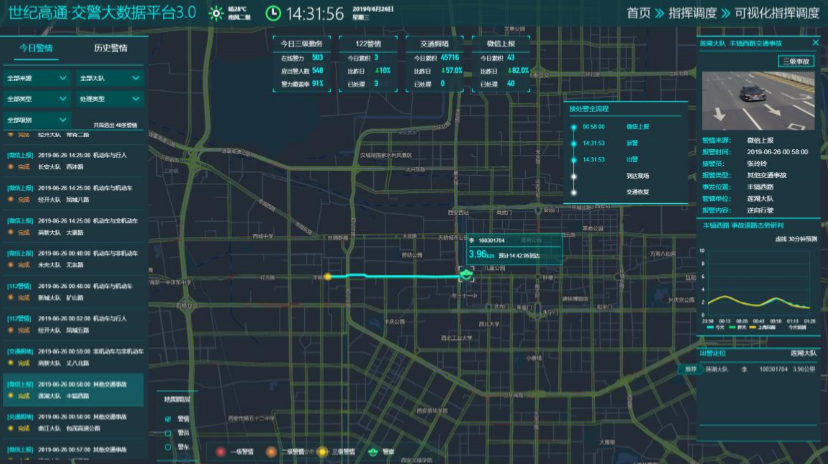 Figure 3 – Traffic Police Big DataPlatform
Intelligent Intersection – To Empower Refined Management of Urban Intersections to Improve Intelligent Traffic Management
Intelligent Intersection is an intelligent traffic simulation scene based on high-precision maps, which is suitable for refined intersection management and accident disposal. The service integrates the video structured data, the data of facilities such as accessand signal light, as well as the road condition data and traffic evaluation indicators of Cennavi to achieve macro and micro monitoring and evaluation of intersections, timely warn of problems at intersectionssuch as overflow, queuingand imbalance, and realize whole-process visual command and dispatch for the traffic accidents on roads.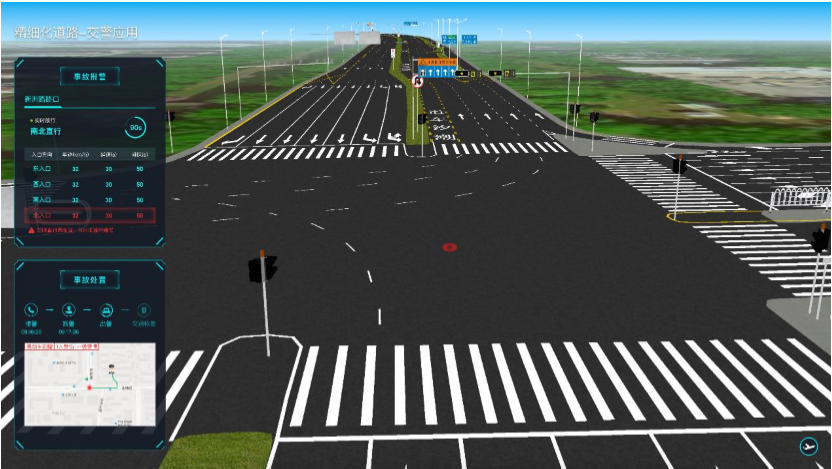 Figure 4 – Refined IntersectionScene
MineData – To Enable the Industry with Intelligence and to Provide Intelligent Location Solution
MineData is a platform independently developed by Cennavi, which integrates data, visualization, algorithm and application servicestogether, and is specialized in providing enterprise-level intelligent locationsolutions for various industries. With the continuous updating of the product, it has achieved further breakthrough in three-dimensional visualization capability, refined restoration of business scenes and further upgrading of location service capability, showing obvious characteristics of refinement, intelligence and integration, etc. The data volume of MineData increases daily by 3.9TB, with a total volume of 5.13PB. It supports rendering of complex scenes such as three-dimensional spheres, dynamic simulation trajectoriesand refined roads, and has builtthe interactive cloud algorithm model, with the capability to provide intelligent location solutions for fields such as transportation, traffic police, public security, automobiles, vehicles, insurance, and planning etc.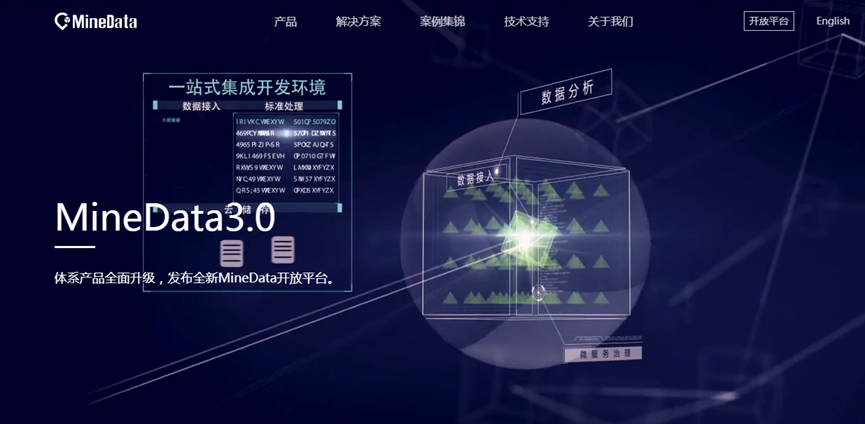 Figure 5 – MineData Location Big Data Platform
Cennavi Promotes Intelligent Construction of Transportation Industryby Adheringto the Concept of Intelligence + Transportation
Cennavi, as a leader in ITS industry and a professional location big data service provider in China, has accumulated a large amount of map data, location information and industry experience, and have provided relevant location big data services in many fields. Cennavi adheres to the concept of "Intelligence+ Transportation", effectively integrates AI, big data and visualization technologiestogether, fully considers the actual business needs of the transportation industry, and applies relevant intelligent innovation services to the transportation field, in order to promote the intelligent construction of the transportation industry.